Magic Adventures Microscope™ - Bonus Slide
Explore tiny worlds and make huge discoveries with a real microscope. Collect your own samples or view 240+ custom BBC images and videos.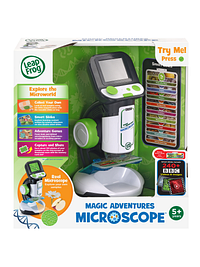 Magic Adventures Microscope™, 9 Double-Sided Smart Slides, 2 Reusable Slides, Quick Start Guide
Curriculum: Various
Publisher: LeapFrog
Details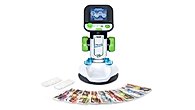 Explore tiny worlds full of huge discoveries with the Magic Adventures Microscope™. Young biologists can zoom in on flowers, animals, food, minerals and more using nine double-sided smart slides including a bonus slide with exclusive content you can't get anywhere else. Packed with amazing BBC videos and images, discover answers to curious questions like: How do leaves changes colors? What do plant cells look like? What is sand made of anyway? Make your own discoveries by finding things around the house and getting a closer look using the reusable slides or large sample tray. You'll be amazed what you can see with up to 200x magnification on this real microscope. See something incredible? Capture and save the on-screen images. Game time! Defend microorganisms from micro-invaders or put your skills to the test with the What's This? quiz. Recipient of the STEAM (Science, Technology, Engineering, Art and Math) Accreditation Stamp of Approval by the Toy Association™.

Real Microscope
Examine your collected samples with 50x-200x magnification.

Viewing Screen
2.4" LCD viewing screen makes it easy to view smart slide content, play games and look at real samples.

Smart Slides
Clip the nine included smart slides under the microscope lens to see 240+ custom BBC videos and images.

Fun Facts
Scroll, zoom and focus on smart slide images to learn new things.

Collect Your Own
Find items around the house and place them on the two included reusable slides or sample tray.

Capture and Share
Save 100 pictures of your discoveries! Save thousands more by inserting an SD card (not included) in the SD card slot.

Adventure Games
Play four action-packed games to feed and heal microorganisms and defend them from micro-invaders across 24 exciting levels.

Challenges
Test your knowledge with the What's This? quiz game.


Dimensions
Product dimensions: 4.8W x 5.3H x 9.8D
Teaches
Skills
Animals
Food & Nutrition
Human Body
Insects
Nature
Plants
Problem Solving
Science
Sorting & Classifying
The Learning Difference
"The Magic Adventures Microscope™ takes young scientists on an adventure into the mysteries invisible to the naked eye. This digital microscope helps kids explore exciting microworlds, create real-world specimens, and make scientific discoveries in their own home. Uncovering these hidden wonders sparks curiosity, inspiring them to ask big questions and empowering them to look closely for answers." Ben J. Miller, Ph.D., LeapFrog Learning Expert