Prep for Preschool Activity Book™
12-page interactive book for preschoolers explores letters, colors, numbers, shapes and more; includes an erasable marker so kids can do the activities over and over.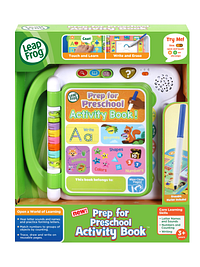 Prep for Preschool Activity Book™, Erasable Marker, Quick Start Guide
Curriculum: Various
Publisher: LeapFrog
Details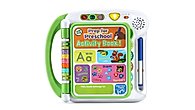 Make the preschool transition a breeze with the Prep for Preschool Activity Book™. Help kiddos build confidence with reusable activity pages to practice their school-ready skills. From letters to numbers to matching activities, preschoolers will find loads to do and re-do in this interactive 12-page book. Touch-sensitive pages encourage kids to explore the alphabet with letters and letter sounds, word building and finding rhymes. Help preschoolers strengthen writing skills with activity pages and an erasable marker that let them trace letters, match numbers to quantities, draw the right clothes for the weather, explore mazes and more. If kids need a clue, they can press the hint button for help. Touch, learn, write, erase and do it all over again!

Get Ready for Preschool
Build school skills and classroom confidence with interactive pages and activities.

Follow the Stars
Touch the star on any page to start an activity.

Focus on Discovery
Explore colors, shapes, numbers and letters with touch-and-discover pages.

Touch and Trace
Trace letters and shapes, match numbers to objects and rhyme words.

Be a Learning Star
Play games to practice listening, to find objects, and draw to dress for the weather.

Hint Button
Press for help or to replay questions.

Wipe-Clean Pages
Practice writing letters, draw, and solve mazes with the erasable marker, then wipe with a damp cloth and do it again!


Dimensions
Product dimensions: 10.6W x 9.5H x 2.0D
Teaches
Skills
Colors
Counting
Letter Names
Letter Sounds
Numbers
Shapes
Weather & Seasons
Word Sounds & Rhyme
The Learning Difference
"The Prep for Preschool Activity Book™ prepares little learners by introducing the academic, social, and fine motor skills that drive classroom success. This book is packed with interactive touch points and reusable pages so kids can practice and perfect their abilities to get a jump start on a lifetime of learning fun!" Ben J. Miller, Ph.D., LeapFrog Learning Expert