LeapPods Max™
Listen to music, go on audio adventures and have a dance party with these ready-to-play headphones packed with onboard content made just for kids.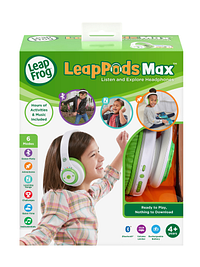 LeapPods Max™, 14-Page Adventure Passport Guidebook, USB Charging Cable, 3.5mm Headphone Cable, Quick Start Guide
Curriculum: Various
Publisher: LeapFrog
Details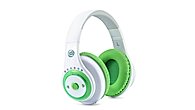 Get ready for an immersive audio experience with LeapPods Max™! Beyond listening to music, hours of included activities take kids on audio adventures, get the mind and body moving with active challenges, introduce mindfulness activities and more. LeapPods Max™ are a great break from screen time and activate a different way of learning. Play right away with no web connection, downloads or account setup required. Expand your imagination and spark curiosity with the included 14-page Adventure Passport guidebook that accompanies the audio adventures and pairs engaging soundscapes and animals sounds with detailed illustrations. But the play doesn't stop there! Wirelessly connect to your own devices using Bluetooth® wireless technology or use the included headphone cable to listen to your favorite music, podcasts and more. The over-ear design is comfortable and provides sound isolation for great sound quality at safe volume levels for kids. Easily explore the activities and music with simple controls that let you play, pause and switch modes without removing the headphones. Enjoy screen-free fun for years to come with these all-in-one interactive headphones.
Batteries
Rechargeable lithium ion battery included.
Dimensions
Product dimensions: 7.7W x 7.4H x 3.3D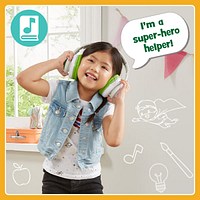 Upbeat Learning Songs
Build life skills with songs about healthy habits, daily routines, confidence, science and counting, health and wellness, social skills and more.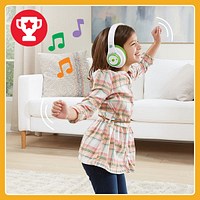 Up For Challenges
Challenge mode features songs specially created to get the mind and body moving with playful directed activities, helping strengthen gross motor and coordination skills.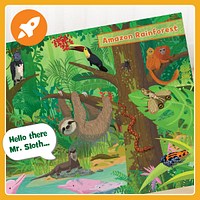 Adventures Await
Experience immersive soundscapes with the included Adventure Passport to explore places like the Amazon Rainforest and learn fun facts about animals around the world.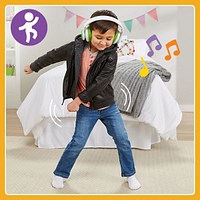 It's A Dance Party
Hear energizing songs that get kids dancing and feeling their best! Songs incorporate developmentally appropriate lyrics that include positive messages about feeling confident.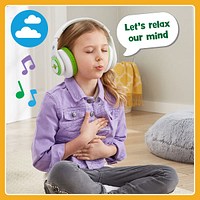 Now It's Quiet Time
Promote self-awareness and emotional well-being through mindfulness exercises​. Content includes a set of meditative narrative tracks that offer kids a moment to calm down, promote relaxation and refresh their attention.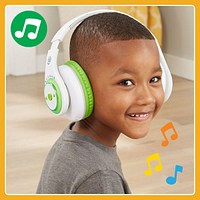 Instrumentals for Relaxation
Accompany everyday activities with a variety of melodies made for relaxing activities like drawing and art projects, or more upbeat fun tunes to listen while playing or doing things around the house.
Teaches
Skills
Animals
Health & Hygiene
Social Emotional
The Learning Difference
"LeapPods Max™ creates a well-rounded experience that explores foundational learning skills, encourages active movements, fosters mindfulness and stimulates the imagination. Our goal is to fuse fun and learning in a screen-free device that can be enjoyed by kids of all ages and interests." Clement Chau, Ph.D., LeapFrog Learning Expert