Scoop & Learn Ice Cream Cart™ Deluxe
Learning is sweet when ice cream is on the menu with the Scoop & Learn Ice Cream Cart™ Deluxe. Customers can order ice cream or ice pops in a variety of imaginative and tasty-looking combinations. Use the magic scooper to scoop up the ice cream and toppings to build customer orders, and the cart will recognize the colors and flavors. Select one of the six cute animal order cards and follow the instructions to build memory and sequencing skills. Order's up! Ring the bell to let customers know their order is ready. Pretend money is included for extra role-play interactions and to introduce counting. Roll the cart along to hear upbeat songs and music.
Scoop & Learn Ice Cream Cart Deluxe, 8 Ice Cream Scoops, 3 Ice Cream Toppings, 3 Cones, 4 Ice Pops, 4 Ice Pop Toppings, 6 Order Cards, 1 Ice Pop Menu Card, 1 Magic Scooper, 10 Coins, 10 Bills, 1 Side Tray, Parent's Guide
Curriculum: Various
Publisher: LeapFrog
Details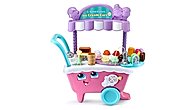 Scoop up learning
Use the magic ice cream scooper to scoop and serve ice cream. The scooper will recognize the colors and flavors.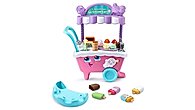 Sell ice pops
Display four ice pop flavors (raspberry, orange, pineapple, kiwi) on the side tray and add a variety of toppings (sprinkles, coconut cream, chocolate, rainbow swirl).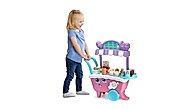 Role-play an ice cream shop
Pretend to run your own ice cream cart. Push it around and look for new customers.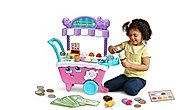 Order's up!
Follow the order card instructions to build treats for six animal customers ranging from easy to hard challenges.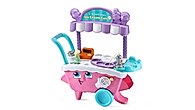 Choose your favorite flavor
Includes four ice cream flavors (vanilla, chocolate, strawberry, mint), three toppings (orange sprinkles, cherry sauce, whipped cream) and three syrup flavors (blueberry, caramel and grape).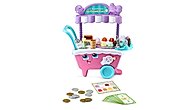 Play and learn
Six activity cards offer six different activities for more interactive learning challenges.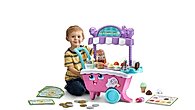 Ring up orders
Use the cash register to ring up orders. Customers can pay using the included play money.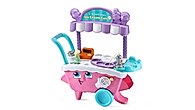 Pump and count
Press the pump to add pretend syrup and count along.
Dimensions
Product dimensions: 20.3W x 24.9H x 8.5D
Teaches
Skills
Colors
Counting
Matching
Memory
Number Sequences
The Learning Difference
"The Scoop & Learn Ice Cream Cart™ Deluxe offers an imaginative way to exercise important memory and sequencing skills. These skills lay a critical foundation for all other learning areas, from recognizing cause and effect to learning to read and count." Clement Chau, Ph.D., LeapFrog Learning Expert