Scrub 'n Play Smart Sink™
Soak up fun & learning with the Scrub 'n Play Smart Sink! Count along with the soap pump & hear about colors & size with the talking dish rack. Six accessories included.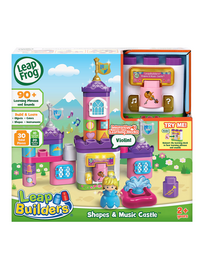 Scrub 'n Play Smart Sink™, Parent's Guide, Sticker Sheet
Curriculum: Various
Publisher: LeapFrog
Details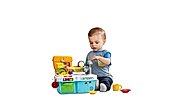 Pretend to wash the dishes
Press the faucet to hear the water sounds and watch the spinner at the bottom of the sink.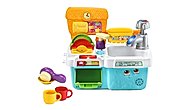 Count with the soap pump
Count from one to ten with the soap pump as while adding pretend soap to the sink.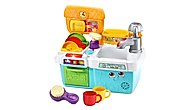 Press the star button
Hear fun suggestions when pressing the star button. Wash, rinse and dry!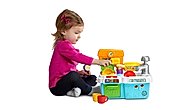 Load the magic drying rack
Match the dishes by size and color to the correct slot on the drying rack and hear the fun responses.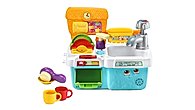 Open and close the dishwasher
Hear different responses when opening and closing the dishwasher door.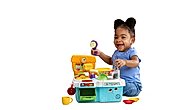 Store all the accessories
Test Everything stores neatly when playtime is done.
Dimensions
Product dimensions: 13.7Wx7.1Hx11.7D
Teaches
Skills
Colors
Counting
Numbers
Pretend Play
The Learning Difference
"Scrub 'n Play Smart Sink™ presents a fun, daily task that toddlers see and want to imitate. Toddlers and preschoolers learn step by step to follow simple directions to wash, rinse and dry plates and cups--and practice counting and color names as they play." Clement Chau, PhD, LeapFrog Learning Expert