Scout's Goodnight Light™ - Online Exclusive
Rocket into dreamland! Blast off on space-pup adventures in flashlight mode, then drift off to sleep with glowing stars and 10 or 20 minutes of bedtime sounds or music.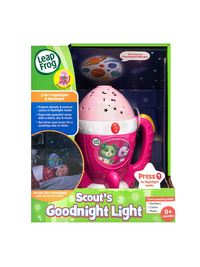 What's in the box

• Scout's Goodnight Light - Online Exclusive
• Parent Guide
Curriculum: Music
Publisher: LeapFrog
Details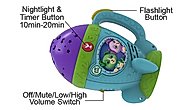 Rocket into dreamland
Use as a flashlight to project an image of the planets, or a soothing lullaby nightlight, with volume control and timer.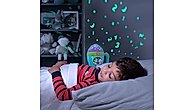 Count down to sleep
Glowing numbers and stars shift from red to blue to green as the timer counts down, lighting the way to sleep in nightlight mode.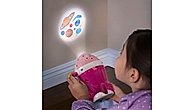 Adventures in space
Flip on the flashlight to see the solar system. Explore colors, count stars and learn about planets with astro-pups Scout and Violet.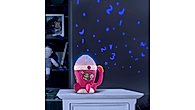 Nightlight
Make bedtime out-of-this-world with a unique combination of quiet imaginative play, twinkling stars and lullaby sounds.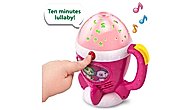 Sound control
Choose from 10 or 20 minutes of solar wind, environmental sounds or Scout's special lullabies. Set the volume to low, high or mute for a soothing shift to sleep.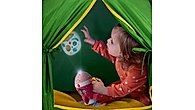 Flashlight adventure fun
Press the yellow flashlight button to turn on the flashlight and see a colorful projection of eight planets. Hear Scout count the planets and talk about their names and colors.
Batteries
3 AA batteries required (included for product demonstration only; replace for home use).
Dimensions
Product dimensions: 5.3Wx6.3Hx4D
Product weight: 1.5 lbs
Teaches
Skills
Colors
Music & Rhythm
Numbers