LeapReader® System and 5 Book Learn-to-Read Set
Help Your Child on Every Step of Their Reading Journey
Practice reading by exploring interesting stories with the LeapReader® System and 5 Book Learn-to-Read Set. Touch the interactive pages using the LeapReader® system to sound out letters and words or follow along with the stories as they're read out loud. Each book includes lively character voices that spark interest and interactive activities that help build reading confidence by introducing vowel sounds, sight words, word blending, spelling skills and more. Continue the reading journey with additional LeapReader® books that advance through four reading levels (sold separately).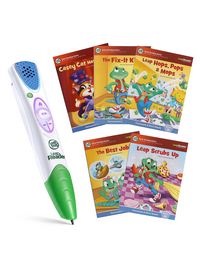 LeapFrog® LeapReader® System, USB Cable, Learn to Read Book Set Volume 1 (5 books included)
Type: Book
Curriculum: Phonics
Works With: LeapReader
Publisher: LeapFrog
Details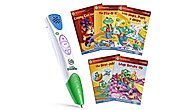 Overview
Meet a cat that raps, the fix-it kid and a frog with the best job—all in stories that introduce short vowel sounds.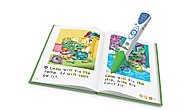 Read
Stories come to life with a touch! Touch the LeapReader® system to the pages to sound out words letter by letter and hear character voices, music and sound effects.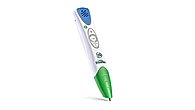 Write
Interactive activities make learning fun. Build early writing skills with stroke-by-stroke guidance without ink or paper. Instant feedback helps children self-correct.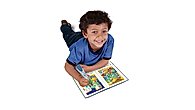 Listen
Download additional content from the LeapFrog App Center including popular audio books, sing-along songs, fun facts and trivia.
Teaches
Skills
Phonics
Reading Comprehension
Reading Fluency
Spelling
Vocabulary
Writing
The Learning Difference
LeapReader® books tap into children's natural curiosity and inspire them to explore. By connecting LeapReader to a computer you can see your child's progress, expand the learning with fun activities and get personalized skill insights.