Peppa Pig™ Peppa's Big Day
Spend the day with Peppa Pig and play oinktastic games in this plug-and-game TV video system.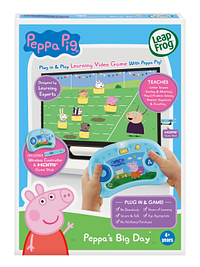 Peppa Pig™ Peppa's Big Day, Wireless Game Controller, HDMI® Game Stick, Micro USB Power Cable, Quick Start Guide
Curriculum: Various
Publisher: LeapFrog
Details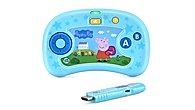 Get ready for a fun-filled day of muddy puddles and more with the Peppa Pig™ Peppa's Big Day video game. Plug in and play eight games with Peppa Pig using the wireless controller. No web connection, downloads or account setup required. Join Peppa Pig for an oinktastic day at home, playgroup and on a field trip. Little piggies will be excited to help Peppa Pig count ingredients for recipes with Mummy and Daddy Pig or help her sort items to clean her messy room. Preschoolers can then go to playgroup with Peppa Pig to explore rhymes and play a game of freeze dance. Go on a field trip and help her compete in a sack race by matching colours, shapes and letters or discover letter sounds and select the correct target to practise archery. Play the games again and again from the Quick Play menu. Save unique game progress with up to five player profiles so the whole family can play.

Ready to Play
Setup is easy! Simply plug the HDMI® game stick and USB power cable into the television and start playing with the wireless controller.

Choose a Profile
Save unique game progress for up to five players as they spend the day with Peppa Pig.

Count Along in the Kitchen
Add ingredients to make meals and count along with Peppa Pig, Mummy and Daddy Pig.

Find and Sort
Look for objects in Peppa Pig's messy room and sot them into the correct baskets.

Jump in Muddy Puddles
Fix the path and count along as Peppa Pig jumps in muddy puddles.

Match Racing Sacks
Match racers to their racing sacks using colours, shapes and letters, then race!

Play Archery
Listen to beginning word sounds and select the correct archery target.

Dimensions
Product weight: 0.1675 kg
Teaches
Skills
Counting
Matching
Number Sequences
Phonemic Awareness
Rhyming
Sorting & Classifying
The Learning Difference
"Children will join Peppa as she learns through play at home, at playgroup and even while sailing the high seas and looking for pirate treasure. Eight games introduce kids to letters and letter sounds, number sequences, counting objects and actions, rhyming words and hand-eye coordination. Peppa fans will enjoy practicing important skills that set them up for school success while exploring Peppa's world." Pamela Gourley-Delaney, Ph.D., LeapFrog Learning Expert
PEPPA PIG and all related trademarks and characters TM & © 2003 Astley Baker Davies Ltd and/or Entertainment One UK Limited. HASBRO and all related logos and trademarks TM & © 2021 Hasbro. All Rights Reserved. Used with Permission.