PAW Patrol: To the Rescue!
Grab Ryder's Pup Pad and go on problem-solving missions in this plug-and-game TV video system.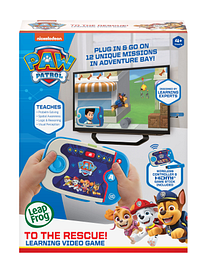 PAW Patrol: To the Rescue!, Wireless Game Controller, HDMI® Game Stick, Micro USB Power Cable, Quick Start Guide
Curriculum: Various
Publisher: LeapFrog
Details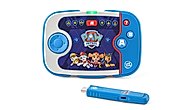 Join Ryder and lead the PAW Patrol on adventures in this learning video game. Plug in and play 12 missions in Adventure Bay using a wireless controller that looks just like Ryder's Pup Pad! No web connection, downloads or account setup required. Drive, fly and run through games like a big kid to avoid obstacles and solve problems with Chase, Skye and Marshall. Search for the right shape to repair vehicles with Rocky and Tracker and match Rubble's dance moves with his outfits. Pick up Pup Treats in every mission to earn gold stars. Collect all the gold stars to become an honorary member of PAW Patrol! Master learning skills like how to think through problems, read a map and more by going to the Quick Challenge menu to play the games again and again. Save unique game progress with up to five player profiles so the whole family can play.

Ready to Play
Setup is easy! Simply plug the HDMI® game stick and USB power cable into the television and start playing with the wireless controller.

Choose a Profile
Save unique game progress for up to five players as they go on missions with the PAW Patrol.

Spatial Awareness
Guide Everest and Zuma past obstacles, crabs and penguins to collect Pup Treats.

Logic and Reasoning
Quickly find the correct combination of dance moves and outfits with Rubble.

Visual Perception
Pick the right replacements for broken vehicle parts with Rocky and Tracker.

Problem-Solving
Run, jump, dash and dive over obstacles with Chase or drive his police cruiser.

Quick Play
Master the games by playing them again from the Quick Challenge menu.

Gold Stars
Get the high score on each mission to become an honorary member of the PAW Patrol.


Teaches
Skills
Logic & Reasoning
Problem Solving
Spatial Reasoning
Visual Discrimination
© 2022 Spin Master PAW Productions Inc. All Rights Reserved. PAW Patrol and all related titles, logos and characters are trademarks of Spin Master Ltd. Nickelodeon and all related titles and logos are trademarks of Viacom International Inc. The terms HDMI, HDMI High-Definition Multimedia Interface, and the HDMI Logo are trademarks or registered trademarks of HDMI Licensing Administrator, Inc.