The Hive: Busy Buzzing Bees!
Laugh with Lord Bartlebee Buzz as he learns to let his antennae down with the Buzzbee, Rubee and Babee. (35-minute video)
Type: Just for Fun Video
Curriculum: Just for Fun
Works With: LeapPad Academy, LeapPad Ultimate, LeapPad Jr., LeapFrog Epic Academy Edition, LeapFrog Epic, LeapPad Platinum, LeapPad3, LeapPad Ultra, LeapPad2, LeapPad1, LeapTV
Publisher: Space Enterprises
HEL 2012.
Details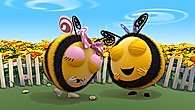 Included episodes
Funny Bee
Buzzbee Buzzes Off
Silly Bee
Show and Tell Bee
Winning Isn't Everything