PAW Patrol: Ruff-n-Tuff Rescues
Rubble runs into Alex the Giant and must get him back up his beanstalk; meanwhile, a well-meaning photo op turns into a real cliff-hanger. Then, when Mayor Goodway and Alex drift out to sea, it's PAW Patrol to the rescue! But when Ryder gets stranded while rescuing Garby the goat, it's up to the pups to save Ryder. Finally, see who's the fastest pup on wheels, and will Mr. Porter win tastiest cake in the big competition?
Type: Learning Video
Curriculum: Life Skills
Works With: LeapPad Academy, LeapPad Ultimate, LeapPad Jr., LeapFrog Epic Academy Edition, LeapFrog Epic, LeapPad Platinum, LeapPad3, LeapPad Ultra, LeapPad2, LeapPad1, LeapTV
Publisher: Viacom
Details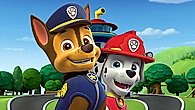 Included episodes
Pups and the Beanstalk / Pups Save the Turbots
Pups and the Lighthouse Boogies / Pups Save Ryder
Pups Great Race / Pups Take the Cake
Teaches
Skills
Helping Others
Neighbourhoods & Communities
Problem Solving
©2015 Viacom International Inc.