LeapTV™ Nickelodeon Dora and Friends Educational, Active Video Game
Join Dora and Friends as they shrink to a tiny size to return an enchanted ring. Race on mouse-back with a friend, run, twirl and use mathematics skills on an adventure back in time.


Number of Players: 1-2

Number of Controllers: 1-2

This game includes 2-player simultaneous gameplay. (Multiplayer feature requires two controllers.)
Type: Active Learning Game
Curriculum: Mathematics
Notable: Multiplayer feature
Works With: LeapTV
Publisher: LeapFrog
Classic Control
TM & © 2014 LeapFrog Enterprises, Inc. All rights reserved. © 2014 VIACOM INTERNATIONAL, INC. All rights reserved. Nickelodeon, Nick Jr., Dora and Friends and all related titles, logos and characters are trademarks of Viacom International, Inc.
Details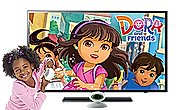 Overview
Race back in time with Dora and Friends, and use mathematics and magic to return an ancient treasure.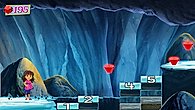 Use number skills
Complete number sequences and use addition, subtraction, early algebra and more to traverse the city.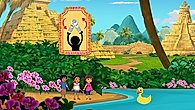 Unleash charms
Twirl charms into action from Dora's bracelet—fly on a butterfly, float on a duck and soar on a bird!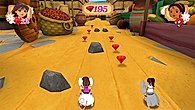 Work together
Tilt and turn the controller to race mouse-back and collect treasure! Team up with a friend to collect even more gems. (Requires 2 controllers.)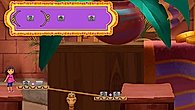 Balance bridges
Add numbers to each side of the bridge to balance equations and help Dora get across.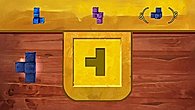 Rotate shapes
Rotate 2D and 3D shapes to find one that will fit in the lock, then select it to open treasure chests.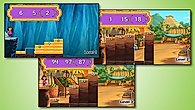 Personalized learning
The learning adapts automatically to your child's level, offering just the right challenge in every game.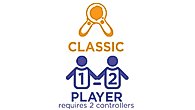 Ways to play
Use the buttons to navigate. Lift or rotate the controller to open boxes and doors. Twirl it to activate magical charms!
Dimensions
Product dimensions: 5.4Wx8.3Hx.9D
Product weight: 0.2 lbs
Teaches
Skills
Addition
Early Algebra
Spatial Reasoning
Subtraction
The Learning Difference
As confident, eager problem-solvers, Dora and her friends are great companions on a journey filled with early algebraic thinking and numbers. Children can also practice mentally rotating shapes to fit into a lock, building spatial reasoning skills that may be valuable for future mathematical thinking. –Pamela G., PhD, LeapFrog Learning Expert
Internet connection may be required for programming update.