Leapster® Ultra
Explore LeapFriends Island and play 30+ exciting preschool and kindergarten games across ten locations for a world of play in your hands.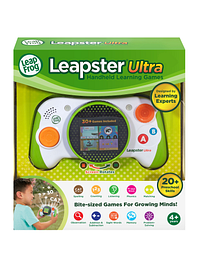 Leapster® Ultra, Quick Start Guide
Curriculum: Various
Publisher: LeapFrog
Details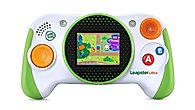 Experience an island of excitement in your hands with the Leapster® Ultra. Welcome to LeapFriends Island, a colorful place where kids can discover and play more than 30 bite-sized games with 1,200+ learning challenges that explore preschool and kindergarten skills like spelling, counting, phonics and problem-solving. No internet connection, downloads or account setup required. Go to places like the farm, airport and fire station to encounter more than 20 LeapFriends. Join playful characters like Gertie the goat and help her jump to words that start with the letter G to explore letters and letter sounds! Spend some time with Nom-Nom, the berry-loving friend that only eats an even number of berries and build a foundation for early math concepts. Shaped like grown-up controllers, the Leapster® Ultra is easy to use and has a bonus spinner and rotating screen that add unique ways to play. Games include three skill levels to keep kids challenged and minds growing. Save game progress with two-player profiles.

Ready to Play
Ready to play out of the box! No internet connection, downloads or account setup required.

Play Like the Big Kids
Shaped like grown-up controllers, this handheld game system includes a spinner and rotating screen for unique gameplay.

Explore LeapFriends Island
Go to the farm, airport, fire station and more to find 20+ LeapFriends and play games with them.

Enjoy Bite-Sized Games
Explore spelling, counting, observation, matching and other important preschool and kindergarten skills.

Level Up
Games include three levels of learning skills to keep kids challenged.

Shared Adventures
Save unique game progress for two player profiles as they explore the island.


Dimensions
Product dimensions: 7.3W x 4.0H x 1.9D
Teaches
Skills
Addition
Counting
Listening Comprehension
Logic & Reasoning
Matching
Memory
Number Sequences
Numbers
Opposites
Patterns
Phonics
Problem Solving
Science
Sight Words
Spatial Reasoning
Spelling
Subtraction
The Alphabet
Visual Puzzles
Vocabulary
Word Building
Word Sounds & Rhyme
The Learning Difference
"The Leapster® Ultra is packed with educational games designed to help young minds develop key skills like spelling, counting, and problem-solving. It features simple controls, clear instructions, on-demand hints, and adaptive skill levels, making learning and gaming easy for little ones." Ben J. Miller, Ph.D., LeapFrog Learning Expert