Build-a-Slice Pizza Cart™
Pretend to make and sell the best pizza in town while exploring colors, shapes and food names.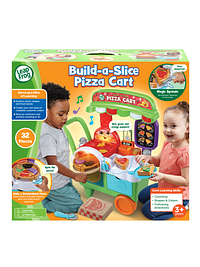 Build-a-Slice Pizza Cart™, Pizza Cart, Pizza Box, Onion Topping, Cheese Topping, Pepperoni Topping, Pepper Topping, Olive Topping, Pineapple Topping, Pizza Cutter, Magic Spatula, Plate, Cheese Shaker, 4 Slices of Pizza, 5 Coins, 10 One-Dollar Bills, Pizza Oven Paddle, Cart Handle, Awning, Quick Start Guide
Curriculum: Various
Publisher: LeapFrog
Details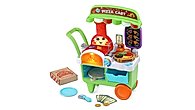 Set up shop and start selling slices with the Build-a-Slice Pizza Cart™! This food cart has everything needed to run a small pretend pizza business including six toppings, a pizza cutter, plate, cheese shaker and more. Ding! Ring the bell to hear a customer's order and explore colors, shapes and food names. They may ask for a slice of pizza with crunchy onion, cheese triangles or red pepperoni. Scoop up the pizza with the magic spatula and it will let you know if you got the order right. You can mix and match toppings to create your own pizza too. Put it in the oven, set the temperature and the oven will say words in Italian, cooking phrases and play music while you wait. Don't cook the pizza too long or it'll burn. Pop the finished pizza in the box and complete the order. Collect and count the play money. Nice cookin', chef! Add music to the dining experience by spinning the pizza turntable for learning songs and melodies.

Order Up
Park the cart and slice up 'pizza' fun by ringing the bell to hear customer orders. Will they want to add onions, pepperoni, or maybe even...pineapple?

Tasty Toppings
Slide the spatula under the pieces where it will recognize the different toppings in both English and Italian, count how many there are, and cheer up the day with a joke or two.

Let's Get Cooking
Use the pizza stone to cook each slice in the adorable brick oven, then turn the dial to set the perfect temperature. Well done!

Cha-Ching
Budding business owners can get paid for all their hard work by inserting the included dollars and coins into the cash register.

Take It To Go
All that's left is to pack up the order to take home and enjoy! Cut the slices and place them in the cardboard box, perfectly-sized for hungry hands.

Close Up Shop
At the end of the day, easily store everything away in the slots and storage drawer, keeping things organized for the next time.

Dimensions
Product dimensions: 21.3W x 25.91H x 8.6D
Teaches
Skills
Colors
Counting
Numbers
Shapes
The Learning Difference
"The Build-a-Slice Pizza Cart™ offers an imaginative way for young chefs to practice counting and recognizing shapes and colors while encouraging children to follow directions. The cart's catchy songs and funny phrases reinforce the learning content and inspire pretend play." Mollie Levin, M.A., LeapFrog Learning Expert