Polar Bear Run
Solve 40 fun puzzles and help a baby polar bear find his way home.
Type: Learning Game
Curriculum: Puzzle/Logic
Works With: LeapPad Academy, LeapPad Ultimate, LeapPad Jr., LeapFrog Epic Academy Edition, LeapFrog Epic, LeapPad Platinum, LeapPad3, LeapPad Ultra, LeapPad2, LeapPad1
Publisher: LeapFrog
Details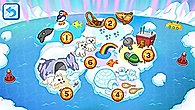 Overview
A baby polar bear is stranded on an iceberg and needs your help to get back to his family's fishing hole.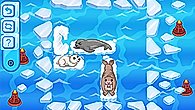 Rescue mission
Clear a safe path through the frozen water by solving 40 puzzles that increase in difficulty.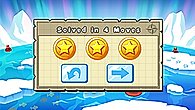 Animal instincts
Use spatial reasoning skills and minimize your playing moves to navigate around arctic animals like seals and walruses.
Teaches
Skills
Logic Skills
Spatial Reasoning
Visual Puzzles