Learn to Read at the Storybook Factory
Deep inside the Storybook Factory, where pictures, words and imagination bring stories to life. (36-minute video)
Type: Learning Video
Curriculum: Ready for School
Works With: LeapPad Academy, LeapPad Ultimate, LeapPad Jr., LeapFrog Epic Academy Edition, LeapFrog Epic, LeapPad Platinum, LeapPad3, LeapPad Ultra, LeapPad2, LeapPad1, LeapTV
Publisher: LeapFrog
Details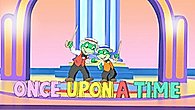 Bring books to life
Go deep into the Storybook Factory with Tad, Lily, Casey and Dot to put a few new twists on a classic tale.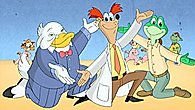 Build confidence
Explore story structure and build reading skills in a fun-filled adventure that turns reading into a game.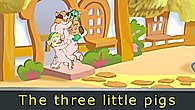 Sing and learn along
Five sing-along songs, complete with on-screen words, encourage kids to read along.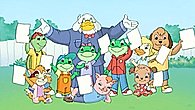 Play a learning game
Reinforce the learning with an included interactive Storybook game!
Teaches
Skills
Reading Comprehension
Story Sequence
The Learning Difference
Children learn to build stories by combining narrative elements such as character, setting, problem, etc. This DVD helps beginning readers to identify the different parts of a story and combine them in fresh and exciting ways.