Slide-to-Read ABC Flash Cards™
Slide into learning with Slide to Read. Hand held and on the go, this interactive reader includes 13 double-sided flashcards that lend a hand in exploring letters, objects and sounds.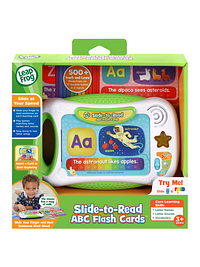 1 Tablet, 13 Double-Sided Cards, Quick Start Guide
Curriculum: Various
Publisher: LeapFrog
Details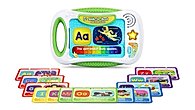 Slide into reading with the Slide-to-Read ABC Flash Cards™. From A-Z, the 13 double-sided cards feature letters, words, sentences and colourful pictures. Learning our ABCs is as easy as counting 1, 2, 3. Preschoolers can touch the card to explore a letter sound, words that begin with that letter and a silly animal sentence. The mouse makes milkshakes! Slide your finger across the sentences from left to right, fast or slow, to follow along while hearing it read aloud. Let's search! Hunt for the pictures or words on the card that the tablet asks for and touch the words and pictures to find them. Add music to the mix and touch the A-Z flash cards to add a variety of sound effects to five different melodies. Sing along to two letter songs by pressing the light-up star button. Slide the cards in the back to securely store them, then grab the handle to take it on the go.

Discover in a Flash
Learn about letters, letter sounds and more on 13 colourful, double-sided cards.

Explore Letters and Words
Examine each letter of the alphabet and discover new words that begin with that letter.

Sentence Slide
Slide a finger over the animal sentences to hear them read aloud, fast or slow.

Find It
Hear questions and find things on each card with a search-and-find game.

Light-Up the Star
Press the star button to play games, hear learning songs and more.

Listen to Music
Hear five melodies and touch the A-Z cards to add sound effects.

Quick Storage
Slide all 13 cards into the back storage slot and lock them into place.

Teaches
Skills
Letter Names
Letter Sounds
Vocabulary
The Learning Difference
"The Slide-to-Read ABC Flash Cards™ includes fun animals and silly sentences to introduce both uppercase and lowercase letters, along with the most common sounds they represent. As children slide left to right to hear sentences read aloud, and tap to hear individual words read aloud, they begin to understand how print works, building a strong foundation for future reading success." Carolyn James, Ph.D., LeapFrog Learning Expert