Details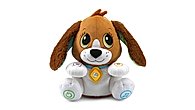 Unleash your puppy love for the plush Speak & Learn Puppy™! Watch your little friend come to life with flapping ears, a head that moves, and real-time responses. As toddlers learn to talk, this interactive dog repeats what they say and asks questions to keep the conversation going. Bailey says what your child says in a fun and interactive way in Babble mode. In Talk mode, the puppy has conversations with children and creates stories from their responses. Explore animal facts, animal sounds, food, feelings, letters and numbers through four paw buttons and a light-up collar. Multiple songs encourage learning, and three learning levels allow the toy to grow with your children as their language skills develop. Talk and learn with Bailey!

Make sounds in Babble mode
Bailey repeats the sounds and words your child says in a fun, interactive way.

Speak with Talk mode
The puppy talks back and forth with your child and turns their replies into stories.

Reinforce learning with Music mode
Listen to songs and music that teach about letters, numbers and emotions.

Watch the puppy respond
Bailey flaps her ears and moves her head in response to your child' speaking and repeats back what she hears.

Learn across three levels
Bailey repeats sounds and words, asks questions and creates stories with your child.


Teaches
Skills
ABCs
Feelings & Emotions
First Words & Phrases
Language Development
Numbers
The Learning Difference
"The Speak & Learn Puppy™ encourages conversation by repeating what your child says in an amusing and playful voice. This fun interaction encourages back-and-forth conversation between the child and the puppy. There are three levels of language play from repeating words, to answering questions, to creating stories using their own voice." Tiffany Sakaguchi, LeapFrog Learning Expert