Rainbow Tea for Two™
Get ready for a colourful party with a friendly light-up teapot. Listen to the teapot's requests and pour cups of tea while exploring colours, shapes and numbers.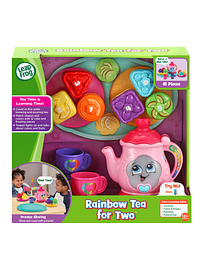 Rainbow Tea for Two™, 1 Tea Pot, 1 Strawberry Cake, 1 Strawberry Cake Frosting, 1 Lemon Cake, 1 Lemon Cake Frosting, 1 Orange Cake, 1 Orange Cake Frosting, 1 Grape Cake, 1 Grape Cake Frosting, 1 Kiwi Cake, 1 Kiwi Cake Frosting, 1 Blueberry Cake, 1 Blueberry Cake Frosting, 2 Shape Plates, 1 Platter, Quick Start Guide
Curriculum: Various
Publisher: LeapFrog
Details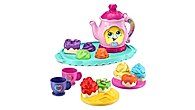 Throw a tea-riffic party with the Rainbow Tea for Two set! This peppy, light-up teapot makes tea parties magical by introducing colours and numbers or playing music for two ways to play. Lift the peek-a-boo lid to change tea flavors and smile in the mirror. The teapot just brewed some strawberry tea. That beverage would go nicely with a piece of triangle cake with red frosting. Match the circle, square and triangle cakes to the spaces on the plates and decorate with six different fruit toppings to explore shapes and colours. Share the tasty treats with a friend and hear pouring sounds when serving the tea. Pour three more splashes. One, two three! Uh-oh, the tea pot is empty. Press the heart-shaped tea time button to brew more tea, listen to music and decorate cakes based on the teapot's requests.

Imagine and Play
Includes everything for a tea party for two with plates, teacups and six colourful cakes.

Get Ready for the Party
Serve tea to hear pouring sounds and decorate cakes based on the teapot's requests.

Choose a Tea
Change the tea flavor by lifting the lid and the light-up teapot will change colour to match.

Press the Tea Time Button
Count and learn about sharing as the tea brews.

Decorate the Cakes
Match the frosting to the cakes by shape, colour and number.

Match the Shapes
Sort the circle, square and triangle cakes into the correct spaces on the plates.

Party in Two Modes
Have a learning party with colours and numbers or listen to music.

Peek-a-Boo Lid
Lift the lid and smile in the mirror.


Teaches
Skills
Colours
Counting
Food Names
Manners
Shapes
The Learning Difference
"Rainbow Tea for Two™ mixes fun, interactive pretend play with early preschool skills. As children pour tea and serve cakes, they explore early vocabulary and counting skills while building social skills like sharing, taking turns and patience. Activities with cupcakes and toppings reinforce matching and fine motor skills and foster creative play." Clement Chau, Ph.D., LeapFrog Learning Expert