Details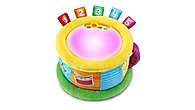 Count to the beat of your own drum with the Learn & Groove® Thumpin' Numbers Drum™. Tap the top of the drum and it will light up to match the numbered tags' colours while saying the colour's name or counting 1-10. Choose English or Spanish modes to learn about colours and numbers in both English and Spanish. Drum up your own beat in Drum Solo mode to add to reggae, pop and Latin music styles. In Music mode, jam along to 12 children's melodies. This plush drum is designed with textured fabric with colourful, numbered tags that add to sensory development and encourage touch. Take the show on the road using the easy-grab fabric handle for on-the-go play.

Drum up colours
Change the colour of the drum to match the fabric tags with every tap.

Count along to the beat
Tap the top of the drum to hear it count from 1-10.

Learn in two languages
Choose to hear numbers and colours in either English or Spanish.

Explore two modes
Choose Drum Solo to hear drum sounds and music styles or select Music mode to play along to 10+ children's melodies.

Feel the fabric
The plush drum features a variety of textured fabrics to encourage touch and snuggles.

Play on the go
Grab the fabric handle and take the show on the road.


Teaches
Skills
Animals
Colours
Fine Motor Skills
Numbers
Shapes
The Learning Difference
"The Learn & Groove® Thumpin' Numbers Drum™ uses musical play to encourage babies to exercise their motor skills as they discover and build early number sense. As they tap the drum, they hear and associate counting numbers with their actions. Colour-changing lights also stimulate their developing senses while reinforcing cause-and-effect." Clement Chau, Ph.D., LeapFrog Learning Expert