LeapReader® Learn-to-Read 10-Book Mega Pack
Spark a love of reading with the LeapReader™ Ultimate Learn to Read Mega Bundle. The Mega Bundle includes the LeapReader™ system and ten Learn to Read Books.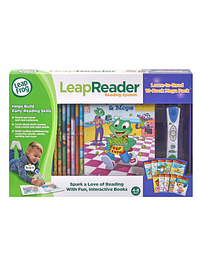 LeapReader™ system, built-in rechargeable battery, 10 Learn to Read books, and a downloadable digital content bundle.
Type: Book Set
Curriculum: Phonics
Works With: LeapReader
Publisher: LeapFrog
Details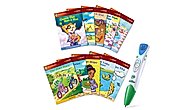 Help your child on their learn-to-read journey with the LeapReader® Learn-to-Read 10-Book Mega Pack™. Ten special books help children progress at a reading pace that feels just right to them. Touch the LeapReader® stylus to the book icon in the included books to hear the story read aloud. Lively character voices enhance the stories as they're read. Explore each word in the story by touching it with the stylus. In Say It mode, you'll hear each word spoken. Switch to Sound It mode to hear words sounded out to build word-blending skills. Select Spell It mode to hear and see the spelling of words and reinforce letter recognition. Yellow highlights throughout the books introduce letter teams that make a single sound or words with irregular spelling patterns. Each book encourages a love of reading through activities and phonics games that reinforce what they've learned. Includes a Curricular Parent Guide that provides information on reading development along with activities that support children on their learn-to-read journey. Additional content can be downloaded from the LeapFrog App Centre and includes popular audio books, sing-along songs, fun facts and trivia.

Start your child's learn-to-read journey with the LeapReader® stylus and progress at just the right pace with 10 interactive books.
Touch the LeapReader® stylus to each page to hear the story read aloud; lively character voices and sounds enhance the stories.
Explore each word to hear it spoken, sounded out and spelled; activities and games reinforce what's being taught.
Included Learn to Read Curricular Parent Guide features tips, activities and more to reinforce reading skills.
Teaches
Skills
Phonics
Reading Comprehension
Reading Fluency
Spelling
Vocabulary
Writing
The Learning Difference
LeapReader books tap into children's natural curiosity and inspire them to explore. By connecting LeapReader to a computer you can see your child's progress, expand the learning with fun activities and get personalised skill insights.