Wallykazam: Word Adventures!
Help Wally stop his house from galloping away, venture through Goblin Forest to find the Great Wishing Potato, and deliver a cake to Ogre Doug's birthday party before the Cake Monster snatches it!
Type: Learning Video
Curriculum: Vocabulary
Works With: LeapPad Ultimate, LeapPad Jr., LeapPad Platinum, LeapPad3, LeapPad Ultra, LeapPad2, LeapPad1, LeapTV
Publisher: Viacom
Details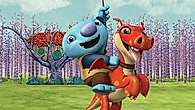 Included episodes
Great Galloping Goblins
The Great Wishing Potato
The Cake Monster
Teaches
Skills
Listening Comprehension
Phonics
Vocabulary
Word Sounds & Rhyme
©2015 Viacom International Inc.