They Might Be Giants: Here Come the ABCs
Get a musical introduction to the ABCs with 25 songs.
Type: Music
Curriculum: Just for Fun
Works With: LeapPad Academy, LeapPad Ultimate, LeapPad Jr., LeapFrog Epic Academy Edition, LeapFrog Epic, LeapPad Platinum, LeapPad3, LeapPad Ultra, LeapPad2, LeapPad1
Publisher: Disney Music
Copyright © 2012 Disney Enterprises, Inc. All rights reserved.
Details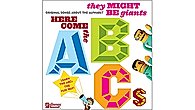 Included songs
Here Come the ABCs
Alphabet of Nations
E Eats Everything
Flying V
Q U
Go for G!
Pictures of Pandas Painting
D & W
Fake-Believe
Can You Find It?
The Vowel Family
Letter / Not a Letter
Alphabet Lost and Found
I C U
Letter Shapes
Who Put the Alphabet in Alphabetical Order?
Rolling O
L M N O
C Is for Conifers
Fake-Believe (Type B)
D Is for Drums
Z Y X
Goodnight My Friends
Clap Your Hands
Here in Higglytown (Theme to Playhouse Disney's Higglytown Heroes)
Internet connection may be required for programming update. Images represent gameplay only. Actual gameplay and visual quality may vary.