Team Umizoomi: Super Solvers!
Sophia is all set to perform in the "Butterfly Dance Show," except for one thing—her costume isn't finished. It's up to Team Umizoomi to complete the costume before curtain time! Next, follow Team Umizoomi as they speed through a space center and help Counting Comet. Oh, no—Purple Monkey is lost inside the UmiCity Zoo! Join Milli, Geo and Bot as they race around the zoo and return Purple Monkey back to Monkey Jungle.
Type: Learning Video
Curriculum: Mathematics
Works With: LeapPad Ultimate, LeapPad Jr., LeapPad Platinum, LeapPad3, LeapPad Ultra, LeapPad2, LeapPad1
Publisher: Viacom
© 2013 Viacom International Inc. All Rights Reserved.
Details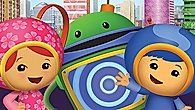 Included episodes
The Butterfly Dance Show
Counting Comet
Purple Monkey Mission