Team Umizoomi: Chicks, Circus, Cuckoo Bears!
Join Team Umizoomi for three math missions as they search for missing baby chicks, guide Ellee the Elephant to the circus and fix the Cuckoo Bears' gears before midnight. (79-minute video)
Type: Learning Video
Curriculum: Algebra
Works With: LeapPad Ultimate, LeapPad Jr., LeapPad Platinum, LeapPad3, LeapPad Ultra, LeapPad2, LeapPad1, LeapTV
Publisher: Viacom
©2014 Viacom International Inc.
Details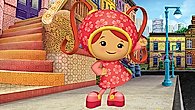 Included episodes
Chicks in the City
Ellee the Elephant
Cuckoo Bears
Teaches
Skills
Measurement
Numbers
Patterns