Super Why!: You've Got the Power Soundtrack
Build reading skills with the Super Readers as they sing 18 hits from the preschool series. (33-minute album)
Type: Music
Curriculum: Just for Fun
Works With: LeapPad Academy, LeapPad Ultimate, LeapPad Jr., LeapFrog Epic Academy Edition, LeapFrog Epic, LeapPad Platinum, LeapPad3, LeapPad Ultra, LeapPad2, LeapPad1
Publisher: KIDZ BOP
2012 Super Tour LLC.
Details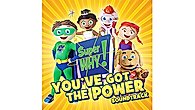 Included songs
Super Why! Theme
Fairytale Friends
The Power to Read
Look in a Book
Super Readers, to the Rescue!
ABC, Sing with Me
Captain Alpha Pig
Word Power
World's Greatest Flipper
Woofster
Friends
I Love to Spell
Rock Star Princess
Super Why the Astronaut
Fly Back
Hip Hip Hooray!
You've Got the Power
So Long
2012 Super Tour LLC. Manufactured and marketed under exclusive license to Razor & Tie Direct LLC.