Pinky Dinky Doo: Where Are My Shoes?
Can salami be substituted for sneakers? Will too much baking powder cause Pinky's home to float into outer space? Is Tyler a tenor? And what the heck is the Polka Dot Pox? Find out in four episodes! (47-minute video)
Type: Learning Video
Curriculum: Listening Skills
Works With: LeapPad Academy, LeapPad Ultimate, LeapPad Jr., LeapFrog Epic Academy Edition, LeapFrog Epic, LeapPad Platinum, LeapPad3, LeapPad Ultra, LeapPad2, LeapPad1
Publisher: Sesame Workshop
©2006 Sesame Workshop. All Rights Reserved.
Details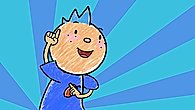 Included episodes
Where Are My Shoes?
Pinky Dinky Doo and the Outer Space Fluffy Buns
Tyler's Great Big Solo!
Polka Dot Pox
Teaches
Skills
Listening Comprehension
Vocabulary