PAW Patrol: Pups Away!
Pause for safety when the PAW Patrol shows up to save cats, change light bulbs and more! (70-minute video)
Type: Learning Video
Curriculum: Life Skills
Works With: LeapPad Academy, LeapPad Ultimate, LeapPad Jr., LeapFrog Epic Academy Edition, LeapFrog Epic, LeapPad Platinum, LeapPad3, LeapPad Ultra, LeapPad2, LeapPad1, LeapTV
Publisher: Viacom
© 2013 Viacom International Inc. All Rights Reserved.
Details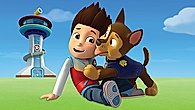 Included episodes
Pups and the Kitty-tastrophe
Pups Save a Train
Pup Pup Boogie
Pups in a Fog
Pups Save the Sea Turtles
Pups and the Very Big Baby
Teaches
Skills
Helping Others
Neighbourhoods & Communities
Problem Solving
2013 Viacom International Inc.