Nickelodeon: Spring into Nick Jr.!
Jump into a colorful story with Dora and Boots as they reunite a newly hatched baby duck with its family! Then, the Bubble Guppies help a beautiful flower bloom so Spring Chicken can announce the arrival of spring. And, Diego and Willie the Whistling Duck hatch a new friendship with Baby Jaguar!
Type: Learning Video
Curriculum: Problem Solving
Works With: LeapPad Ultimate, LeapPad Jr., LeapPad Platinum, LeapPad3, LeapPad Ultra, LeapPad2, LeapPad1, LeapTV
Publisher: Viacom
Details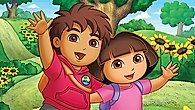 Included episodes
Dora the Explorer: Quack! Quack!
Bubble Guppies: The Spring Chicken Is Coming
Go, Diego, Go!: Whistling Willie Finds a Friend!
Teaches
Skills
Animals
Problem Solving
Spanish
©2015 Viacom International Inc.