Little Pim's Holiday Adventure! Tasty Treats Around the World
Visit France, Brazil, Mexico and China and discover new holiday traditions while learning words in French, Portuguese, Spanish and Mandarin Chinese.
Type: eBook
Curriculum: Language Learning
Works With: LeapPad Ultimate, LeapPad Jr., LeapPad Platinum, LeapPad3, LeapPad Ultra, LeapPad2, LeapPad1
Publisher: Little Pim
Details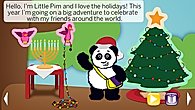 Overview
Join Little Pim and he visits friends for the holidays, eats new holiday treats and learns about traditions.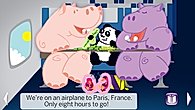 New cultures
Little Pim's friends share interesting facts about their countries.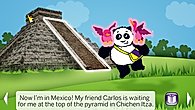 Key vocabulary
Kids can discover helpful words in new languages as they visit Little Pim's friends.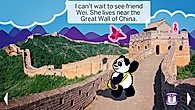 Happy holidays
Have fun celebrating new cultures and languages with new friends.
Teaches
Skills
Customs & Holidays
Vocabulary
World Languages
Copyright © 2013, Little Pim Corporation / The Little Pim logo, symbol, and character are trademarks of Little Pim Corporation. Artwork and design © Little Pim Corporation / All rights reserved. No portion of this book may be reproduced, stored in a retrieval system, or transmitted in any form or by any means, mechanical, electronic, photocopying, recording, or otherwise, without written permission from the publisher.