iCarly: iMake or Break!
Break out the laughs for these three hilarious episodes of iCarly! Join the awesome trio, Carly, Sam, and Freddie as they break into the web show world, break a world record for longest continuous webcast, and…break into Principal Franklin's office?! (71-minute video)
Type: Just for Fun Video
Curriculum: Just for Fun
Works With: LeapPad Academy, LeapPad Ultimate, LeapPad Jr., LeapFrog Epic Academy Edition, LeapFrog Epic, LeapPad Platinum, LeapPad3, LeapPad Ultra, LeapPad2, LeapPad1
Publisher: Viacom
© 2012 Viacom International Inc. All Rights Reserved.
Details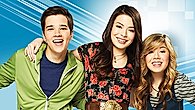 Included episodes
iPilot
iWant a World Record
iPromise Not to Tell