Get Ready for Preschool: Welcome to School!
Join Chris, Daniel, Grace and Pilar for phonics fun in their preschool classroom.
Type: Interactive Storybook
Curriculum: Reading
Notable: Microphone
Works With: LeapPad Academy, LeapPad Ultimate, LeapPad Jr., LeapFrog Epic Academy Edition, LeapFrog Epic, LeapPad Platinum, LeapPad3, LeapPad Ultra, LeapPad2, LeapPad1
Publisher: LeapFrog
Details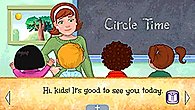 Overview
Explore the preschool classroom, and experience daily activities like circle time, play time and story time.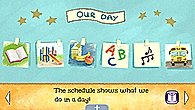 3 reading levels
The story is written at three different levels, which progress from simple text to more complex words and sentences.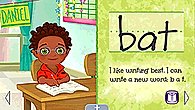 Touch, Hear & Tell
Touch words to hear them spelled and sounded out, and tell stories by recording with the microphone.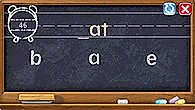 Letters and Words
Practice blending sounds into words, writing letters, identifying words and building words with different letter sounds.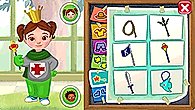 Interactive games
Dress up the students in fun costumes and help them sort and clean up their toys!
Teaches
Skills
Books & Print
Listening Comprehension
Word Building
The Learning Difference
"Help children prepare for starting school with Get Ready for Preschool, a suite of titles (sold separately) that teach core skills to help lay the foundation for future school success. In this title, players experience a day in a preschool classroom while exploring letters, letter sounds and word building. These early literacy skills are reinforced as they go through different classroom routines." – Carolyn J., LeapFrog Learning Expert