(French) Football : Championnat des maths
C'est le championnat de foot des maths ! Fais équipe avec les singes ou les singes robots pour gagner la coupe des noix de coco !
Type: Learning Game
Curriculum: Mathematics
Works With: LeapPad Platinum, LeapPad3, LeapPad Ultra, LeapPad2, LeapPad1
Publisher: LeapFrog
Details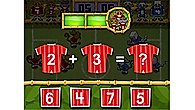 Overview
Solve maths problems and score goals to build up the team as the games become more challenging.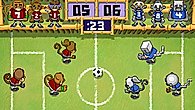 Fancy footwork
These monkeys really know how to move-learn one-on-one monkey manoeuvres and think fast.
Teaches
Skills
Addition
Number Recognition
Subtraction