Dora the Explorer: Dora Saves the Snow Princess
See how the friends help save la Princessa Sabrina and her snowy forest. Then, see what toys Dora collects to cheer up her sick twin siblings. And, follow along as Dora helps her dog Perrito meet his long lost twin brother at Play Park.
Type: Learning Video
Curriculum: Problem Solving
Works With: LeapPad Ultimate, LeapPad Jr., LeapPad Platinum, LeapPad3, LeapPad Ultra, LeapPad2, LeapPad1, LeapTV
Publisher: Viacom
Details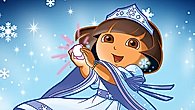 Included episodes
Dora Saves the Snow Princess
Dora's Jack-in-the-Box
Bark, Bark to Play Park!
Teaches
Skills
Map Skills
Problem Solving
Spanish
©2014 Viacom International Inc