Bubble Guppies: Challenge Accepted!
The Bubble Guppies do their festive best to show Mr. Grumpfish the joy of the holiday season. Then, Sir Mulligan challenges Nonny for the right to become a knight and Gil loses his library card, so the Guppies dive into all of Gil's favorite books to find it. (69-minute video)
Type: Learning Video
Curriculum: Problem Solving
Works With: LeapPad Ultimate, LeapPad Jr., LeapPad Platinum, LeapPad3, LeapPad Ultra, LeapPad2, LeapPad1, LeapTV
Publisher: Viacom
© 2013 Viacom International Inc. All Rights Reserved.
Details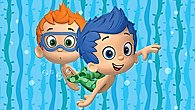 Included episodes
Happy Holidays, Mr. Grumpfish!
Sir Nonny the Nice!
Check It Out!
Teaches
Skills
Logic & Reasoning
Problem Solving