Yum-2-3 Deluxe Breakfast Set™
Wake up to a smiling toy toaster that teaches toddlers and preschoolers how to make breakfast for two and learn about colors, numbers and opposites.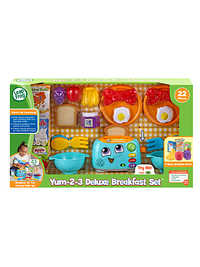 Yum-2-3 Deluxe Breakfast Set™ Toaster, 2 Bread Slices, 1 Apple, 1 Bunch of Bananas, 1 Bunch of Grapes, 2 Eggs, 2 Bacon Stacks, Jelly Jar With Detachable Lid, 3 Food Boxes, 2 Forks, 2 Knives, 2 Plates, 2 Bowls, Quick Start Guide
Curriculum: Various
Publisher: LeapFrog
Details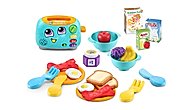 Making breakfast for two is as easy as 1-2-3! Start the day with this sunny little toaster who talks about how to make toast and other simple recipes. Put the bread in the toaster and learn about opposites as you choose your toast setting. Ready to count? Press the one, two, three food buttons to learn about numbers, colors and food names. Twenty-two pretend play pieces include everything you need to serve two people eggs, toast, bacon, fruit and more—all on cute plates and bowls with utensils, too! The delightful pop-up action of the toaster lets kids push down the bread, then press the lever to pop it up—push, pop, repeat! Serve up breakfast with a side of learning.

22 Play Pieces
This breakfast set for two includes a toaster, two bread slices, an apple, a bunch of bananas, a bunch of grapes, two eggs, two bacon stacks, a jelly jar with a removable lid, three food boxes, two forks, two knives, two plates and two bowls.

Friendly Toaster
The smiling toaster talks about how to make eggs, bacon, toast, and breakfast sandwiches with playful sound effects.

1-2-3 Buttons
Explore colors, numbers, food names and simple recipes with songs and music.

All About Opposites
Turn the dial on the toaster to learn about opposites as you make light toast and dark toast.

Push, Press, Pop, Repeat!
Push the bread into the toaster and press the lever to make the toast pop up again.


Dimensions
Product dimensions: 7.1W x 4.5H x 3.5D
Teaches
Skills
Colors
Counting
Numbers
Opposites
Pretend Play
The Learning Difference
"The Yum-2-3 Deluxe Breakfast Set™ has an interactive toaster with delightful pop-up action that engages young ones in developing early number sense and counting skills. The interactive food buttons and accessories develop imaginative thinking and support playful ways to learn colors and opposites." Ben J. Miller, Ph.D., LeapFrog Learning Expert