Touch & Learn Wooden Activity Cube™
Toddlers find fun around every corner with five sides of activities that introduce shapes, colors, numbers, animals and music.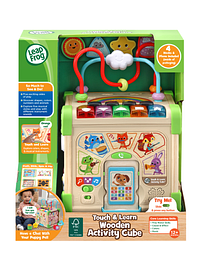 Touch & Learn Wooden Activity Cube™, Quick Start Guide
Curriculum: Various
Publisher: LeapFrog
Details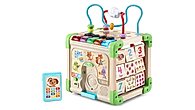 It's a block party with the Touch & Learn Wooden Activity Cube™, only at Target! Exciting activities around every corner introduce toddlers to shapes, colors, numbers, animals and music. Touch the five friendly animals to hear them play their instruments, then use the light-up piano keys to make your own music using fiddle, drum, flute, guitar and trumpet sounds. The phone's ringing! Pick it up to chat with your new puppy pal, Dog. Take a trip to the top of the cube and spin the cloud or slide the beads around the maze to build problem-solving and coordination skills. Can you find a picture of five ladybugs? Find the blocks on the side and flip them to explore numbers and things from nature. Slide to the other side and move the squirrel and butterfly or turn the interlocking gears to see cause and effect at work. The fifth side features a shape sorter to use with the four included shape blocks. This cube is made with 100% FSC™-certified wood that comes from well-managed forests.

Press and Play
From the top! Those musical keys create a symphony of notes and learning, while the slide beads and fluffy clouds keep little fingers active.

Time to Jam
Head on down to the animal band and fiddle on the fiddle, drum on the drum and more! Then call Dog on the detachable rattle phone to talk about the day.

One, Two, Three
Spin the nine double-sided wooden blocks to explore counting with written numbers on one side, and adorable animals and nature items on the other.

Get Those Gears Turning
Three interlocking dials will delight curious learners while working on motor skills. Plus, make friends with Butterfly and Squirrel by moving them along their paths.

Shape Sorter
Use the open middle area to easily store the included pieces, or go the advanced route and match each shape to its hole. Where's the triangle? You're a star!

FSC-Certified Wood
FSC-certified forests promote biological diversity while sustaining economic variability. In other words, the wood is harvested in an ethical way that doesn't negatively impact the area.

Dimensions
Product dimensions: 8.1W x 11.4H x 7.3D
Teaches
Skills
Animals
Colors
Music
Shapes
The Learning Difference
"The Touch & Learn Wooden Activity Cube™ provides a variety of ways to engage young children as they make music and explore musical instrument sounds, musical styles, colors and shapes. With gears, blocks, a shape sorter and more, children can also practice refining their developing fine motor skills as they push, slide, spin and flip the parts of the cube in cause-and-effect play." Pamela Gourley-Delaney, Ph.D., LeapFrog Learning Expert