Spin & Change Apple Shape Sorter™
A sweet spin on shape sorting, this apple helps kids explore exciting new shapes with fruit-block friends.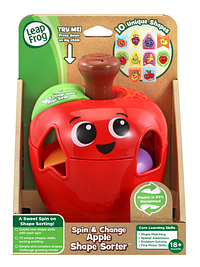 Spin & Change Apple Shape Sorter™, 10 Shape Blocks, Quick Start Guide
Curriculum: Various
Publisher: LeapFrog
Details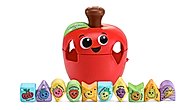 Discovering new shapes is sweet with the Spin & Change Apple Shape Sorter™. Press the stem on this a-peeling shape sorter to rotate the apple and create four sorting spaces. Toddlers will love examining the sides, curves and corners of ten simple and complex shapes before pushing them into the sorter. A fruit salad of fun, each colorful block features a friendly character to encourage kids to identify different types of fruit. Open the storage door to quickly release all the blocks and play again. It's easy as pie! The apple and shape blocks are made with 85% reclaimed plastic which means less waste goes into landfills. Intended for ages 18+ months. Batteries not required.

Press the Stem
Push to spin the apple and create new sorting spaces.

Explore Shapes and Fruit
Examine the unique shapes and colorful fruit characters.

Insert the Blocks
Match the blocks with the sorting spaces and slide them into the sorter.

Challenge Growing Minds
Explore both simple and complex shapes.

Release the Shapes
Open the door to empty the apple for fast replay.

Dimensions
Product dimensions: 5.77W x 7.0H x 5.8D
Teaches
Skills
Food Names
Problem Solving
Shapes
The Learning Difference
"With the Spin & Change Apple Shape Sorter™, little ones can hone spatial reasoning and problem-solving abilities as they try to find the right spots for all 10 shapes. By practicing these skills from a young age, children take important steps in their math learning journey." Branda Sun, Ed.M., LeapFrog Learning Expert