Safari Learning Station™
Explore and Grow on a Learning Safari!
Explore first words, numbers, shapes, colors, animals, music and more with an activity center designed to adjust and grow with your child.
Curriculum: Various
Publisher: LeapFrog
Details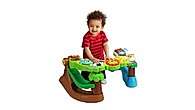 Adjustable arch
Change the position of the arch so little ones can sit, stand or crawl under it.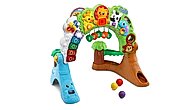 Three play modes
Choose Music, Explore or Learn modes to hear safari music, help kids learn first words and explore shapes, animals, numbers, counting and colors.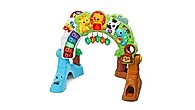 Giraffe, lion and zebra
Push the letter and number buttons on the Giraffe and Zebra and Lion's LED screen will show you what they look like.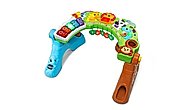 Light-up piano keys
Press the piano buttons and discover shapes and colors while making music.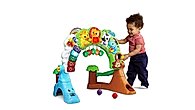 Monkey ball ramp
Push the colorful balls through Monkey's tail to watch them roll down the ramp.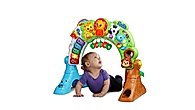 Chameleon colors
Spin Chameleon's tail to see a rainbow light show.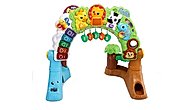 Dangling leaves
Pull on the leaves to count from 1-5 along with Lion.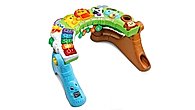 Butterfly wings
Turning the wings of the butterfly introduces colors and butterfly facts.
Dimensions
Product dimensions: 27.56W x 22.44H x 12D
Teaches
Skills
Animals
Colors
Music & Rhythm
Numbers
Shapes
Spanish
The Alphabet
The Learning Difference
"From sitting to crawling to standing, LeapFrog's Safari Learning Station™ offers three configurations of play to support early developmental milestones. Buttons and manipulates foster fine motor skills while engaging your child to reach up, bat, and press for songs and phrases to build early learning skills like numbers, letters, and colors." - Clement C., PhD, LeapFrog Learning Expert