Details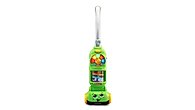 Count on picking up learning with the Pick Up & Count Vacuum™! This smart vacuum toy picks up ten play dust pieces as kids roll the vacuum over them, encouraging motor skills as they easily maneuver the pretend vacuum around the room. As the vacuum picks up the dust pieces, it recognizes each color and helps children with color recognition. Bouncing balls inside the spinning vacuum canister add excitement to pretend tidying. Three play modes teach colors, numbers and counting with six learning games. Five light-up panels illuminate to match the color of the piece the vacuum picks up, and the vacuum says the color name and counts the piece to reinforce learning. The tiltable handle adjusts to multiple heights, allowing this toy to grow with your child. A dust bin on the back collects and stores all ten dust pieces. Clean up on learning!

Pretend to vacuum
Pick up learning with the vacuum toy and ten play dust pieces.

Identify colors
Smart vacuum recognizes the color of each dust piece.

Count 1 to 10
Count along with the vacuum as each dust piece is picked up.

Play in three modes
Number, Color and Play modes reinforce colors, numbers and counting with six learning games.

Store all the pieces
All ten pieces collect in the attached dust bin and store easily when playtime is done.

Adjustable height
Handle tilts to adjust to multiple heights for grow-with-me fun and learning.


Dimensions
Product dimensions: 6.6W x 7.5H x 24.3D
Teaches
Skills
Colors
Counting
Listening Comprehension
Matching
Numbers
Pretend Play
Sorting & Classifying
The Learning Difference
"The Pick Up & Count Vacuum™ exercises young children's emerging counting and color recognition skills with interactive games. It challenges adept walkers to steer the toy toward specific targets to strengthen their coordination and planning skills." Ben J. Miller, Ph.D., LeapFrog Learning Expert