Number Crunchin' Squirrel™
Practice Counting with Number Crunching Fun!
Feed the hungry squirrel treats to explore counting, colors and early math concepts. Then press his tail to send them soaring.
Curriculum: Numbers
Publisher: LeapFrog
Do not aim at eyes or face. Do not put squirrel treats in mouth.
Details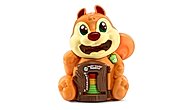 Acorn music button
Press to hear three learning songs about colors, numbers and food.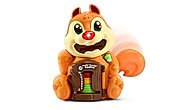 Light-up nose button
Press to hear what the squirrel wants to eat and practice counting.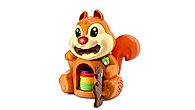 Squirrel treat log
Open and close the door to hear opposites and store all 10 treats inside.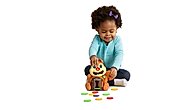 10 squirrel treats
Feed the squirrel different color and size fruit treats to hear numbers, colors and fruit names.
Dimensions
Product dimensions: 7.99W x 4.78H x 6.85D
Teaches
Skills
Colors
Counting
Food & Nutrition
The Learning Difference
"The Number Crunchin' Squirrel™ offers a number of fun activities to build early concepts around numbers and sums. The squirrel challenges your child to count along and feed it different combinations of squirrel treats to make different sums. Playing with numbers in these fun ways can foster early math awareness and build math skills." - Clement Chau, PhD LeapFrog Learning Expert