Letter Factory Adventures®: The Great Shape Mystery DVD + Digital
Mystery comes in all shapes and sizes. Will the LeapFrog friends' sleuthing skills measure up?
Set off to unlock the secret of Quigley's new machine, and explore shapes and fractions with the LeapFrog friends.
Type: DVD
Curriculum: Mathematics
Works With: DVDs
Publisher: LeapFrog
TM & © 2015 LeapFrog Enterprises, Inc. All rights reserved.
Details
Overview
Join Leap, Lily and Tad for a math-filled mystery adventure and learn about shapes, fractions and measurement.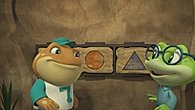 Explore shapes
Adventure into a mysterious cavern, where 2D shapes hold the key to the describing the 3D shapes inside.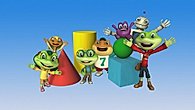 Discover 3D
Learn about cubes, spheres, cylinders and cones, and discover that "shapes are everywhere" with a lively learning song.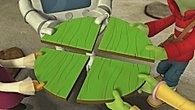 Go halfsies
Explore halves, thirds and quarters as equal parts of a whole—perfect for sharing food with friends.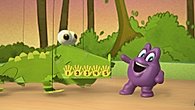 Measure away
Sing along to a playful measurement song, and discover three different ways to measure everyday objects.
Dimensions
Product dimensions: 5.5Wx8Hx0.8D
Product weight: 0.15 lbs
Teaches
Skills
2D Shapes
3D Shapes
Decimals & Fractions
Measurement
The Learning Difference
In this video, children see how Tad and Lily use what they know about 2D shapes to learn about 3D shapes. Sharing food provides a meaningful context to introduce fractions as equal parts of a whole. Children also observe many different ways to measure things.
TM & © 2015 LeapFrog Enterprises, Inc. All rights reserved.