LeapStart™ Interactive Learning System for Kindergarten & 1st Grade - Exclusive Purple
Special Edition LeapStart is an interactive learning system that gets kids excited about everything from creative thinking to STEM, with fun replayable activities that teach life and school skills.

With a library of 16 Activity Books (sold separately), which progress from Preschool to 1st Grade that seamlessly blend school key concepts and life skills with more than 400 learning activities—a funfest of touch-and-talk games, creative challenges, problem-solving puzzles, math mazes and more.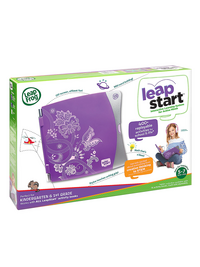 What's in the box

• LeapFrog Interactive Learning System Kindergarten and First Grade - Exclusive Purple
• Kindergarten and First Grade Sample Book
• Parent Handbook
• Parent Guide
• Quick Start Guide
• USB cable

Details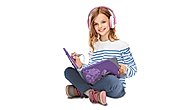 Overview
The LeapStart interactive learning system is designed to help build key skills and challenge kids to get ready for their next step in learning.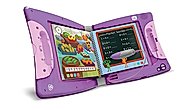 How it works
The magic behind LeapStart Online Exclusive Purple is a stylus that reads invisible dots on every page triggering engaging audios like questions, challenges, songs, jokes and more to teach school and life skills in a new and exciting ways.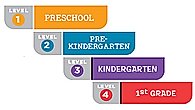 4 book levels
Progress from Preschool to 1st Grade with 16 activity books that all work on LeapStart.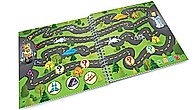 School & Life Skills
Each activity book seamlessly blends school and life skills, like math with critical thinking for a more comprehensive introduction to key concepts.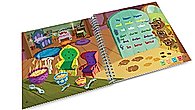 Activities galore
A funfest of touch-and-talk games, creative challenges, problem-solving puzzles, math mazes and more awaits with 30+ activities in every book.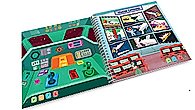 Replayable fun
Every activity across all 16 books is designed to be played again and again for endless discovery, storytelling, music making, jokes and more.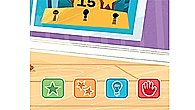 Grows with you
Most replayable activities are designed with two levels so that kids can play and learn at the right level and move up when they're ready.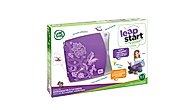 Perfect for Preschool and Pre-Kindergarten
Includes: Kid-tough device with easy-hold stylus for little hands and Preschool & Pre-Kindergarten sampler book.
Batteries
Requires 2 AA batteries. Not included.
Dimensions
Product dimensions: 11.1Wx10.71Hx1.4D
Product weight: 3.5 lbs
System Requirements
High-speed Internet connection
Monitor resolution of 1024 x 768
Wi-Fi connection (for certain features)

Available USB port
1 GB of RAM
500 MB free disk space
LeapFrog Parent Account required.
PC Requirements
Pentium® 4 or equivalent (2 GHz processor or faster recommended)
Windows® 7, Windows® 8, or Windows® 10 operating system with latest service pack
Mac Requirements
Intel®-based Apple computer (1 GHz processor or faster recommended)
Mac OS X 10.8+ operating system software
MAC, APPLE and MAC OS are trademarks of Apple Inc., registered in the U.S. and other countries.
With 700+ activities across a library of 16 books (sold separately) and 50 key skills per level, we're helping kids build tomorrow's skills today, in new imaginative ways.