LeapStart® Go System & School Success Bundle
Enrich learning to get kids excited about everything from counting to reading through touch-and-talk games and vivid videos.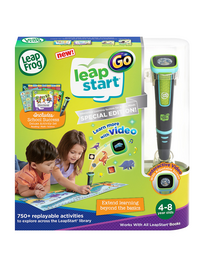 LeapStart® Go, Deluxe Activity Set - School Success, Parent's Guide
Details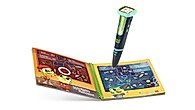 Learn in an exciting new way with the innovative LeapStart® Go System & School Success Bundle. The sleek, easy-to-hold stylus triggers video and audio responses using the adjustable 1.44" LCD screen and built-in speaker. LeapStart® Go makes it easier to understand more advanced information with visual and auditory learning. Open the fold-out pages and explore the movable parts by tapping the stylus on the interactive pictures and words. Learning is enhanced through amazing videos that take you back to prehistoric times to meet the dinosaurs or far into space to explore planets up close. The set introduces a full curriculum of school subjects and includes movable parts to expand learning in creative ways. A computer with an Internet connection is required to download books and activity sets onto the LeapStart® system. Not compatible with LeapReader® books. Intended for ages 4-8 years. Rechargeable lithium battery included.

LeapStart® Go
LeapStart® Go is a learning system that magically brings books to life with audio and video to provide a deeper learning experience that goes beyond basic skills.

Videos take learning to another level
Videos can enhance learning by illustrating more advanced concepts in an easy way or by showing examples that deepen understanding.

More ways to play
Most activites have two levels so kids can play and learn at the right level and move up when they're ready. LeapStart® Go holds up to 13 animated books at a time.

Grows with you
Progress from preschool to first grade and beyond with 25+ books and two deluxe activity sets that teach reading, math, science, problem solving and more (sold separately).

Unique, interactive learning
LeapStart® Go also works with other books from the LeapStart® library.

Includes Deluxe Activity Set – School Success
Watch amazing videos that reinforce the curriculum by showing dinosaurs during the Cretaceous period, actual images and videos of the planets and more.

Cool tech for the next generation
Innovative stylus features a 1.44" adjustable LCD screen, speaker, a headphone jack for quiet play and a rechargeable battery.

In the know on the go
The stylus is compact and easy-to-carry so it's great for car rides or road trips.
Dimensions
Product dimensions: 1.8Wx6.5Hx1.8D
Teaches
Skills
Dinosaurs
Map Skills
Numbers
Organization and Planning
Parts of Speech
Science
Science (Solar System)
Shapes
Telling Time