LeapReader™ Junior
Their first steps to reading.
The perfect get ready to read system—stories and songs come to life with every touch on the page.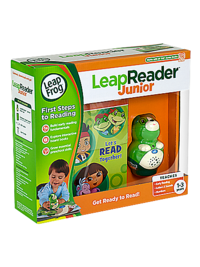 What's in the box

• LeapReader™ Junior Book Pal
• LeapReader™ Junior Sampler Board Book
• User Guide
Details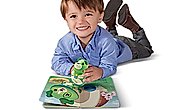 Made for toddlers
The Book Pal is easy to use and designed especially for toddlers' hands and motor skills.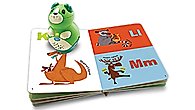 Engaging audio
Tap words or pictures on the page to hear 125+ responses including letter sounds, words, and phonics songs.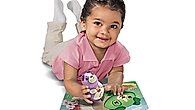 Their very own pal
Personalize the learning by downloading your child's name*, and audio for up to five books at a time to the puppy pal.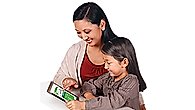 Preschool skills
From ABCs and 1-2-3's to early vocabulary about color and emotions, it's easy to prep for preschool (sold separately).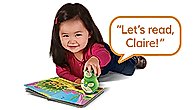 Early phonics
Practice letter names, explore how books work and play 24+ fun activities in each book (sold separately).
Dimensions
Product dimensions: 2.5Wx3.5Hx2.5D
Product weight: 1.15 lbs
A library of preschool skills
Explore preschool skills in each interactive board book as LeapReader Junior brings words, pictures, and beloved character voices to life!
Compare Devices
Reading
Systems
At a glance

LeapReader™ Reading and Writing System

LeapReader™ Junior
Tag™ Junior

Core Curriculum
Reading & Writing Skills
Preschool Skills
Age Range
4-8 years
1-3 years
Includes USB rechargeable battery

Learning Features

Builds reading comprehension
Offers interactive writing guidance
Sounds out words & reads sentences‡
Plays learning songs with the built-in audio player

Learning Library

Library snapshot
150+ titles
Books
Maps
Flash Cards
Book Sets
Writing activity books and special LeapFrog™ Learning paper
Audio Books
Music Albums
Trivia Challenges
20 titles
Board Books
—
Flash Cards
Book Sets

—
—
—
—
Number of content titles included on device
4
1
On-board memory
256MB
8MB
Maximum storage capacity of content titles on device‡‡
Up to 40
5

Compatibility

Works with Tag library
Works with most Tag books‡
Works with LeapReader Read & Write Series of writing books
Compatible with LeapReader library of audio books, music and trivia challenges
Works with LeapReader Junior and Tag Junior board books

Other Specs

AC Adapter
Available for purchase
Headphone Jack
Online Parent Portal
USB Port
Requires 2 AAA batteries (not included).
Internet connection for parent account and device set-up required to download additional book audio.
* Select from a list of names.
‡ Sound-out feature available in select books. For a list of Tag titles that are compatible with LeapReader, visit
here.
‡‡ Actual storage capacity on the Tag and LeapReader devices may vary depending on the content downloaded.