ABCs & Activities Wooden Table™
Sitting or standing, kids enjoy tons of activities at every turn with this wooden table that introduces letters, words, animals, colors and music.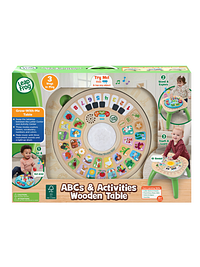 ABCs & Activities Wooden Table™, 1 Wooden Table Top Frame, 1 Round Double-Sided Panel Insert, 4 Plastic Legs, 3 Plastic Shape Blocks
Curriculum: Various
Publisher: LeapFrog
Details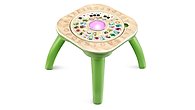 Turn the tables on play with the ABCs & Activities Wooden Table™, only at Target. Sit on the floor to explore the Activity Center and its twisty bead maze, turning gears and musical book page. We're growing vegetables! Insert the tomato, carrot and peas shape-sorter blocks to pretend to plant seeds. When crawlers become cruisers, insert the Activity Center into the table top to encourage standing and walking. As little ones turn into toddlers, flip the Activity Center over to the Letter Center side to find touch-sensitive pictures that encourage kids to discover letters, words and phonics. Let's explore the garden. Switch modes and touch the pictures to listen to phrases about animals, counting and colors or tap on the drum to hear color names and numbers. Add nature sounds to the melodies or use the piano keys to make your own music using piano, flute and violin sounds in Music mode. This table is made with 100% FSC™-certified wood that comes from well-managed forests.

Turn the Tables
Two-sided table insert features an Activity Center and a Letter Center for fun at every turn.

Sort Blocks
Press the block pieces into the shape-sorter spaces to explore veggies, colors and numbers.

Flip the Page
Turn the book page for a story and to hear a song and four tunes.

Light Up the Drum
Tap on the colorful drum to count to ten or explore color names.

Sing a Song
Press the song button to hear 16 tunes including the ABC song.

Play Musical Instruments
Touch the piano keys and explore piano, flute and violin sounds.

Touch the Pictures
Explore letters, words and phonics by tapping on the colorful images.

Dimensions
Product dimensions: 18.3W x 13.0H x 18.3D
Teaches
Skills
Colors
Counting
Fine Motor Skills
Letter Names
Letter Sounds
Music
Numbers
Shapes
The Learning Difference
"ABCs & Activities Wooden Table™ encourages infants to sit up, stand, and toddle around as they discover fun play pieces to practice fine motor skills. The wooden panel offers colorful images to explore early language and phonics skills. With multiple ways to play, ABCs & Activities Wooden Table™ is designed to grow with your child to foster learning and early development." Clement Chau, Ph.D., LeapFrog Learning Expert