SpongeBob SquarePants: Splash from the Past!
SpongeBob rips his pants at the beach, Mr. Krabs sells some squeaky boots, SpongeBob and Patrick hunt aliens, Plankton tries to rid Goo Lagoon of beachgoers, and the boys bring a bit of Texas to Bikini Bottom in these undersea stories! (70-minute video)
Type: Just for Fun Video
Curriculum: Just for Fun
Works With: LeapPad Ultimate, LeapPad Jr., LeapPad Platinum, LeapPad3, LeapPad Ultra, LeapPad2, LeapPad1
Publisher: Viacom
Details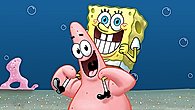 Included episodes
Bubblestand
Ripped Pants
Sandy's Rocket
Squeaky Boots
Texas
Walking Small
©2014 Viacom International Inc.