Octonauts: To the Gup-X!
Captain Barnacles leads a mission to rescue Dashi from inside a giant whale shark. Kwazii takes to the skies to retrieve a precious book from a school of flying fish! Peso tries to bandage a Great White Shark without becoming his lunch. (72-minute video)
Type: Learning Video
Curriculum: Science
Works With: LeapPad Academy, LeapPad Ultimate, LeapFrog Epic Academy Edition, LeapFrog Epic, LeapPad Platinum, LeapPad Ultra, LeapPad2, LeapPad1, LeapTV
Publisher: NCircle
Details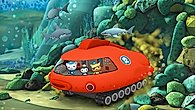 Included episodes
Great White Shark
Coconut Crabs
Bowhead Whales
Whale Shark
Monster Map
Flying Fish
Teaches
Skills
Animals
Helping Others
Social Skills
OCTONAUTS © 2013 Vampire Squid Productions Ltd.