Octonauts: Deep Sea Mission
Join the Octonauts as they explore the hidden depths of the Midnight Zone! Peso must conquer his fears to treat a Vampire Squid! Dashi and Inkling go head to head with hungry Gulper Eels! Then, Barnacles, Kwazii and crew must rescue sea creatures before an underwater volcano erupts!
Type: Learning Video
Curriculum: Science
Works With: LeapPad Academy, LeapPad Ultimate, LeapPad Jr., LeapFrog Epic Academy Edition, LeapFrog Epic, LeapPad Platinum, LeapPad3, LeapPad Ultra, LeapPad2, LeapTV
Publisher: NCircle
Details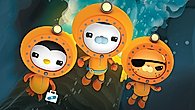 Included episodes
Midnight Zone
Vampire Squid
Scary Spookfish
Blobfish Brothers
Gulper Eels
Long Armed Squid

Teaches
Skills
Animals
Helping Others
Social Skills
OCTONAUTS TM OCTOPOD TM Meomi Design Inc. OCTONAUTS Copyright © 2014 Vampire Squid Productions Ltd., a member of the Silvergate Media group of companies. A co-production with Brown Bag Films. All rights reserved. Distributed by NCircle Entertainment ®, a division of Alliance Entertainment, LLC.