Number Loving Oven
The perfect recipe for number learning fun!
From counting and cooking to serving and sharing, it's preschool prep for little chefs—16 fun ingredients included!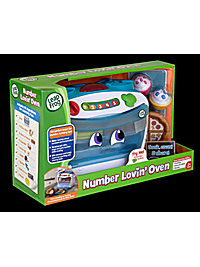 What's in the box

• Interactive oven
• 4 Pizza slices
• 3 Pieces of bread
• 2 Cupcakes
• 1 Fried egg
• 1 Skillet
• 1 Spatula
• 1 Baking tray
• 2 Plates

Details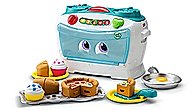 Get skills cooking
Delightful singing oven warms up counting, sharing and vocabulary skills.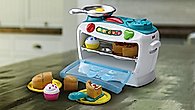 30+ phrases & songs
Press the chef's hat for learning songs, or listen and learn along to fun phrases.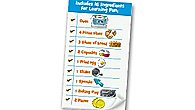 16 ingredients
Fry an egg in the pan. Bake some bread, a pizza and cupcakes, and serve food onto plates with the spatula!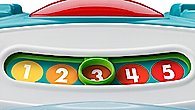 High, medium & low
Move the number slider to explore numbers, time and temperature.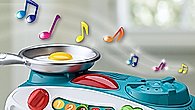 Sizzling hob
Place the pan on the hob for real sizzle sounds. Turn the timer and count clicks!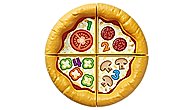 A taste of maths
Nourish maths learning: cut food into 2, 3 or 4 equal pieces.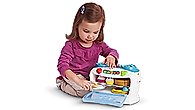 Prepare & share
Close the oven to explore numbers and counting. Open it to learn about counting and sharing.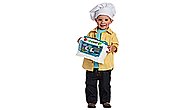 Stash & dash
Easy take-and-go play—everything fits inside!
Batteries
Requires 3 AAA batteries (included for product demonstration only; replace for home use).
Dimensions
Product dimensions: 37.8Wx22.9Hx13.5D
Product weight: 1.4 kg
Teaches
Skills
Counting
Parts of a Whole
Sharing
The Learning Difference
"Number Loving Oven offers a fun and interactive way to explore early number concepts including recognising numbers, counting along and sharing. As they play, children may discover interesting mathematical relationships such as parts that make up a whole and dividing equally." – Clement C., PhD., LeapFrog Learning Expert